TEC Alloy adjustable Steering damper kit. LEFT SIDE MOUNT. For Bonneville/ T100/ Thruxton/ Scrambler/ SE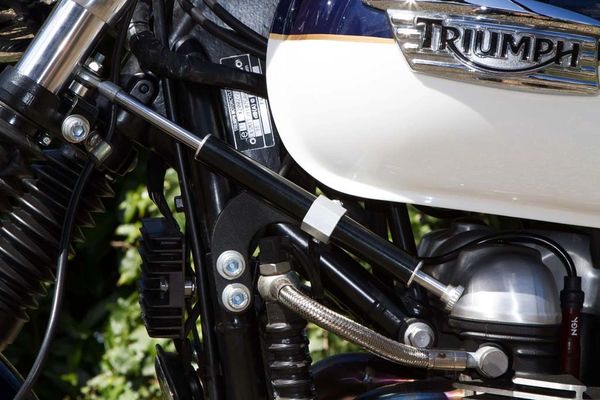 TEC Alloy adjustable Steering damper kit. LEFT SIDE MOUNT. For Bonneville/ T100/ Thruxton/ Scrambler/ SE
We have been asked many times for a TEC Alloy Adjustable Steering Damper kit that mounts on the left side as it allows riders to adjust it on the move whilst holding the twist grip. Also many bikes have had the ignition switch moved to the right hand side of frame and need the damper mounted on the other side.  You asked, so we provide!
Includes all brackets bolts and detailed instructions.
Fits - Bonneville/T100/Bonneville SE/Thruxton,/Scrambler.  All models/years
Easy to install with no drilling required.
Specially made for TEC, wide range adjustable damper (not the universal type used by many companies that are to restrictive round town at slow speeds).
Quality spherical bearings at both ends for precision control (no spongy rubber joints)
Easy to adjust with positive 'click'adjust
12 month warranty
Reviews