Street Scrambler De-cat unit / pipe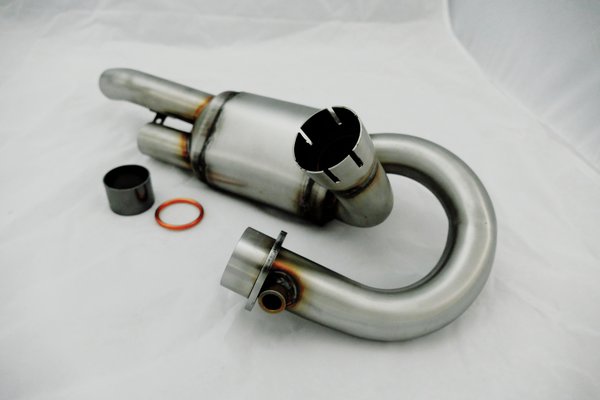 Street Scrambler De-cat unit / pipe
TEC "De-Cat" Stainless crossover type Pipe
- This brand new part is designed to fit the Triumph
Street Scrambler 900cc water cooled from 2017 onwards.
Bolt-in replacement for the very restrictive standard exhaust CAT. Supplied with written and picture instructions. Fitted easily with basic tools.
retains all standard heat shields and looks totally standard on inspection
Our 100% stainless and hand welded TEC X-pipes are unrivaled for quality, performance and price.
Fully dyno developed by us to give best sound and performance.
We found during testing these motors need a crossover to get best performance, A pipe with an 'H' pattern would have been far easier ( and cheaper) to make, but we found it did not perform as good.
Dyno developed to give improved gas flow - giving better torque and power.
Vastly improved exhaust sound even with standard silencers.
Less back pressure and heat soak into motor to help with cooler running.
It retains standard heat shields and all "E" compliance marks for a standard unmodified look - No problems at M.O.T testing time as emissions are not part of the test.
No drilling or cutting required and fully reversible.
Can be installed without a remap. No problem as ECU will adjust.
You can use with Triumph's uprated Vance & Hines maps to release even more power and smoother running on 900cc motors.
Can be used with all types of standard, TEC and Vance and Hines silencers.
At almost 1KG lighter than the standard CAT unit and far less restrictive, it allows your motor exhaust gases to flow freely giving a much improved sound and performance.The standard cat unit has to get extremely hot to work correctly and this heat can soak back int the motor and your right leg, our De-cat runs at a reduced temperature due to the lack of restriction.
TEC de-cat's are used by many Triumph dealers and owners all over the world.
Legal part: This part is designed for off road use and is to be used at owners discretion only. It is not legal to sell or use this part in California USA!
Reviews