Multi-way Adjustable CNC alloy rider foot pegs - Fits Speed Twin/ T100/T120/Bobber 1200/ Speedmaster 1200/Street Twin/Street Cup/ Thruxton/ Thruxton R/ Bobber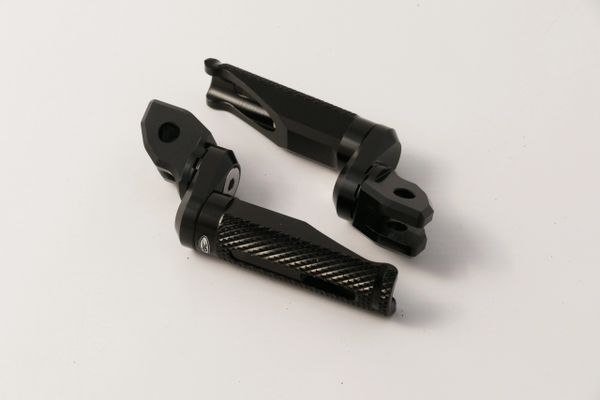 Multi-way Adjustable CNC alloy rider foot pegs - Fits Speed Twin/ T100/T120/Bobber 1200/ Speedmaster 1200/Street Twin/Street Cup/ Thruxton/ Thruxton R/ Bobber
TEC Adjustable rider footrest kits in All Black or Black with Silver foot pegs (choose colour in drop down box).
This kit consists of a pair of footpegs.
Everybody is a different size and as we ride these bikes all the time we know on certain models the pegs are just not in the correct position, even for an average size rider. 
For example with the standard seat most riders find the seat to peg distance too short on the Street Twin.  On the Street Cup and Thruxton models most riders find the pegs too far forward.  On the T120 and T100 we find that some riders feel the off set pegs are too low or forward. 
So if you feel the pegs need moving in any direction or you find the distance to the brake or gear lever too long or short these pegs are the answer.
We have made these multi adjustable pegs to allow you to fine tune the position just to your liking.
For extra security they have machined index pegs on both the mounting adaptor AND on the foot peg (some other types available do not index the foot peg and this can cause it to come loose in use).
8 Lockable positions available with 25mm adjustment offset in all directions.
Beautifully CNC machined from alloy billet and anodised for durability and super light weight.
Pegs are cut away on underside of end for improved ground clearance even in lowest position.
We also have matching Knurled alloy passenger folding foot peg kits in Silver or Black as well. 
Fits the following models:
Street Twin
Street Cup
T100 - 2016 onwards
T120 - 2016 onwards>
Thruxton 1200
Thruxton R
Bobber
Speedmaster 1200
Speed Twin 1200cc  2019 on>
Reviews